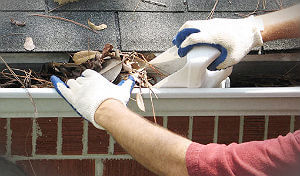 Gutter cleaning is a job best left to the professionals like the specialists working for our company – we are based in Palmers Green, but upon request, can assist customers, residing in the surrounding boroughs as well.
Our team consists of trained, skilled and friendly professionals who are always ready and willing to provide advice on gutter maintenance.
Moreover, our employees are fully-equipped with advanced vacuum machines and long telescopic poles which provide them with the chance to clean customers' gutters from the safety of the ground.
Each customer, who books our service, receive a guarantee so you can have your peace of mind.
Advanced Gutter Cleaning for Residential and Commercial Properties Palmers Green
Over the past decade, we have helped hundreds of domestic and residential clients by providing high-standard gutter cleaning services that stand out with efficiency, promptness and flexibility. Other advantages of using our services include:
A quality guarantee on the work we carry out
24/7 call centre for customer service and enquiries
Professional gutter cleaning equipment
Full public liability insurance
Gutter maintenance at great discounts
Competitive and flat prices without hidden charges
Advice on gutter maintenance
"I would like to commend your team on the excellent job they did cleaning my gutters the other day. They inspected the gutters, unclogged my downpipe, and removed all compressed debris. Very thorough and professional work, indeed. I recommend it to everyone who insists on getting quality results for their money! – Catherine"
Cleaning your gutters on your own is not a good idea, not to mention the results will never be satisfactory. This, however, doesn't mean you should neglect the condition your gutters are in. Gutter cleaning is a procedure which should take place at least twice a year, especially if your property is located in proximity to tall trees. The good news is our gutter cleaning experts can unclog blocked downpipes and are available for regular gutter maintenance.
Professional Gutter Cleaners in N13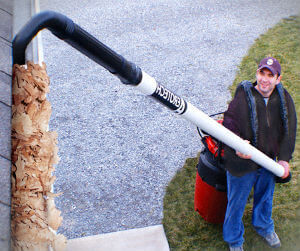 We have carefully selected the members of our team to ensure customers are serviced by experienced and knowledgeable professionals. Our team implements specialised vacuum machines and jet washers to ensure the effective removal of dry leaves, sticks, and other debris from your clogged gutters.
They can evaluate the condition your gutter is in by taking a look directly inside the downpipe with the camera that is attached to their telescopic poles.
All work is carried out to a professional standard, in compliance with the established safety regulations of this trade. We have a full public liability insurance as accidents do happen every once in a while, after all.
You can book us for regular maintenance of your gutters to ensure they are at their best throughout the year. Booking our gutter cleaning services in Palmers Green, N13 is simple – contact us over the phone or provide your details in our online form.